The Danish composer Fuzzy has musically decorated The Black Diamond with his work Katalog (Catalogue) which is inspired by the treasures of the library and presents 52 electro-acoustical works of which one is played every day at 1.00-1.03 p.m. - a new work every week. The music can be heard in the big atrium of the library (called "The Chip") between the balconies, glass walls and transverse bridges.

Below we present the pictures and a short description of the objects from the library which have inspired Fuzzy for the music of the individual weeks in May and June (week no. 18-26).



Back to the index




Week 18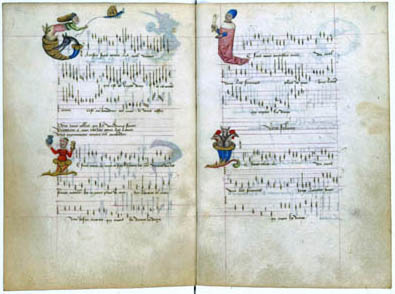 Illuminated manuscript with music for three-part French love songs (Chanson d'amour) from the France-Burgundy area, c. 1480. An elegantly decorated choral book with letters shaped in figures and symbolic animal drawings; on this page the woman in the G on the left entices the kneeling man in the J with a butterfly of love. This manuscript plays a key role in musicology and was published in 1927 by the Danish musicologist Knud Jeppesen, as Der Kopenhagener Chansonnier.
Manuscript Department, Thott 291, oktavo. See the whole work online.



Week 19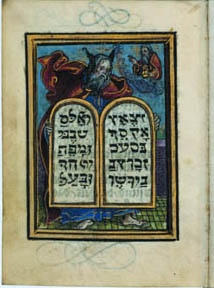 Ainbetbüchlin (A little prayerbook) by Luther, printed in Augsburg, 1522. This copy is printed on parchment and has coloured woodcuts. Moses with the Ten Commandments.
Manuscript Department, Perg. Nr. 41, Oktavo (Pegg nr. 3918).



Week 20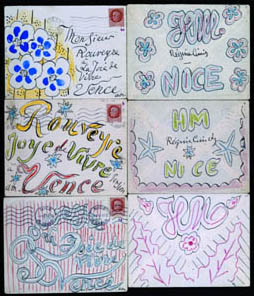 Envelopes decorated on the front and back by the French painter Henry Matisse from a collection of about 60 letters written to his friend, the artist and author André Rouvere, who in the 1950s donated them to the Manuscript Collection.
The Manuscript Collection, Utilg. 330 III. See more about the envelopes



Week 21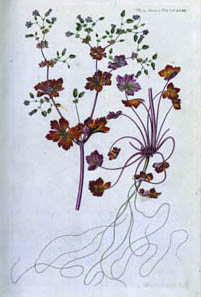 From the first Latin edition of Flora Danica, a cranesbill (Geranium lucidum) from Bornholm depicted in plate 218 of volume 2 (1766).
Department of Main Collections (University Library Department), 22,-55, folio.



Week 22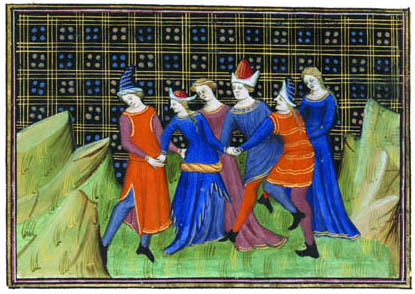 Dancing in a ring in honour of Amor in a manuscript of the popular verse romance Le Roman de la Rose, French, c. 1400-25.
Manuscript Department, Ny kongelige Samling 63, folio.



Week 23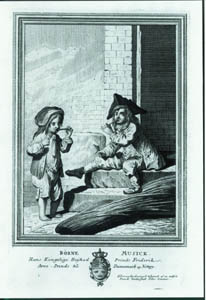 Example of the engravings, which, just like broadsheets, books and manuscripts, were presented to members of the royal family. Michael Rössler's etching after a drawing by P. Cramer was dedicated to Christian VII's brother, Prince Frederik, and the genre motif Children's music was chosen in connection with an addition to the family.
The Prints and Photograph Section, Müllers Pinakotek, Vol. 23, pl. 37 I A, folio.



Week 24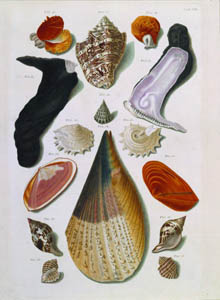 Conches etc. shown on plate 8 intended for the second volume of F.M. Regenfuss's work on shells which never appeared (c. 1780).
Department of Main Collections (University Library Department), 21,-285, folio.



Week 25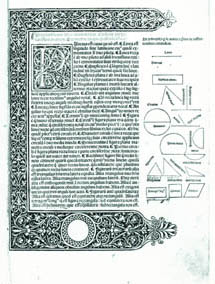 Elementa in artem geometriæ (The elements of Geometry), printed in Vicenza by L. Achates and G. Papiensis in 1491. The first edition of the Greek Mathematician Euclid's fundamental work on geometry. The first page begins with the elementary components of geometry, the line and the point, partly framed by a border of arabesques. The clear and well-arranged lay-out with the figures in the margins and text made the book a model for later mathematical books.
Manuscript Department, Inkunabel No. 1512, folio. See more about the book



Week 26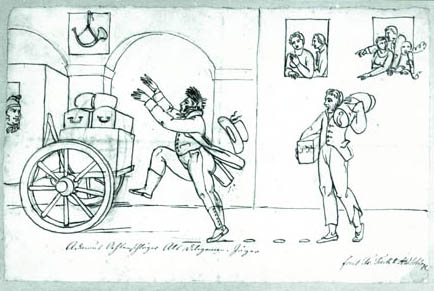 "Adamus Oehlenschläger Als Diligencen-Jäger". Humourous drawing by Fr. Tieck and A.W. Schlegel from the poet Adam Oehlenschläger's journey through Switzerland in 1809. Among Oehlenschläger's papers.
Manuscript Department, Ny kongelige Samling 2752 IX, kvarto.


Back to the index



---
Comments for The Music and Theatre Department
Updated August 2004
---