Treasures in the Royal Library
---
Back | Main
---
Homer: The Iliad and the Odyssey. Florence: [Bernardus Nerlius, not before 13 January 1488/89]. 2 vols.
Inc. Haun. 2001 2º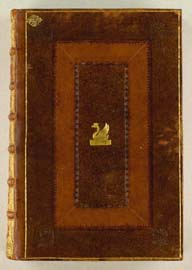 Front cover (vol. 2)
Fol. A1r: The Iliad, 1st song
(vol. 1)
Fol. AA1r: The Odyssey,
1st song (vol. 2)
Fol. FF1v: The Odyssey,
the beginning of the 6th song,
in which Odysseus arrives in
the land of the Phaeacians
(vol. 2)
Printer's postscript (vol. 2)

This is a first edition of Homer's epic works the Iliad and the Odyssey printed in Greek. An early owner has added comments in red.
As is the case with the editions of Cornelius Nepos, Euclid, and Aristotle, it reflects the interest of the Renaissance in Greco-Roman antiquity, an interest which in Italy coincided with early printing in the latter part of the 15th century.
These volumes were purchased by Frederik Rostgaard (1671-1745), Danish collector of books and state archivist, in Venice in 1699. In 1726 they were bought by Count Christian Danneskiold-Samsøe and subsequently by Count Otto Thott after whose death in 1785 they were included in the Royal Library.
The bindings are so-called mirror bindings made of brown leather with the super exlibris of Christian Danneskiold-Samsøe (a swan) on the front covers. This kind of binding features a dark marbled central panel (the mirror), surrounded by a blind or gold tooled frame and, outside of that, a lighter area that is also surrounded, but by a blind rather than a gold tooled line. These bindings were popular in Denmark in the 18th century.
34.2 x 23.2 cm.
---
Back | Main
---
© Det Kongelige Bibliotek 2003