Treasures in the Royal Library
---
Back | Main
---
Dacheng miaofa lianhua jing (The Lotus Sūtra). China 1692. 7 vols.
Department of Oriental and Judaica Collections, OA 102-1117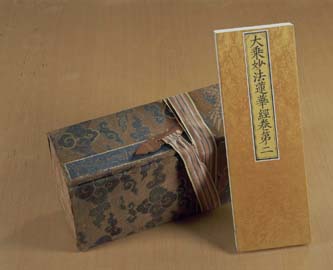 The box and a volume

Traditional Chinese Buddhist book box containing a sūtra text in seven luxuriously bound volumes. The sūtra text Saddharma pundarīka (The Lotus Sūtra) is translated from Sanskrit into Chinese by Kumārajīva (344-413) and holds the title Dacheng miaofa lianhua jing.
The box as well as the individual volumes are bound in woven silk brocade. The pattern consists of dragons between cloud formations. The dragon is a symbol of strength. The seven volumes are bound as libretto bindings, which was a favoured binding method for holy Buddhist texts. The libretto binding enables the monks to go through the text quickly. To keep the volumes together they were usually either placed in a box or wrapped in a piece of cloth. This last method is still in use in Tibet and the Himalayas.
The person who ordered these books to be bound in silk brocade hoped that this act would give him a better karma.
The volumes: 34 x 13 cm.
---
Back | Main
---
© Det Kongelige Bibliotek 2003